History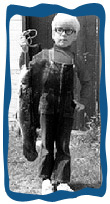 1972 – The Origin of "The Original" Big Fish
After the tragic loss of pet fish Lumen, a normal well adjusted six-year-old has the spark of an idea that later creates Big Fish Interactive. Big Fish founder Andrew Reid realizes that Lumen didn't take his life without leaving a note …but rather, he had a keen awareness that his life could be far bigger if he just thought outside the limits of his glass bowl.
The experience leaves Andrew asking how this story would have been different if Lumen only knew how to ask for support.
1980s – Setting the stage for Big Fish
Big Fish founder Andrew Reid spends the decade honing his philosophy on the workplace that would later form the foundation of Big Fish Interactive's workshops. Andrew gains a degree in Corporate Sociology to support his focus on alternative training practices. He later works with the world's largest outdoor adventure company before launching Big Fish.
1995 – Spawning Big Fish
Andrew Reid incorporates Big Fish Interactive. His vision was to build a company that would align corporate vision and employees in order to help businesses accelerate growth and achieve world class results. The phrase Thinking Outside the Bowl™ comes to describe the Big Fish team's approach to corporate training that is creative and leadership based.
2000 – Big Fish gets Bigger
Attracted to our approach to training, many of North America's corporate leaders and high-tech up-and-comers turn to Big Fish to provide the tools and strategies to get their teams beyond surviving the workplace and into a high performing, thriving state. Over the next four years, the Big Fish team grows to include many of the finest facilitators founder Andrew Reid has had the pleasure to work with.
2001 – Big Fish trades swimming for paddling
The Big Fish Dragon Boat Team begins as a way to showcase the Big Fish approach to teambuilding (and it doesn't hurt that Andrew Reid loves to paddle). The team quickly becomes a competitive threat and has been winning races ever since.
2004-05
Having successfully run training programs in Europe over the years, Big Fish establishes its global base at Scotland's famed 15th century Guthrie Castle. Big Fish offers Guthrie Castle to its North American and European clients as a venue for corporate retreats and meetings. Renowned for its expertise on the subject of high-performance leadership, the Big Fish team wraps a busy year speaking to a wide array of community groups including the Future Leaders of Ontario, as well as to other not-for-profit organizations. Hired on a 12-month HR consulting contract, Big Fish helps double the staff and optimize performance at one of Canada's fastest-growing sports equipment companies.
2006
"Sink 'r Swim" becomes our best-selling indoor simulation game and inspires the masses with new possibilities for positive change.
2007
Big Fish designs the Bigger Fish Systems CoachingTM, our powerful new six-step coaching process. The system is a hybrid of the success patterns we've tracked amongst international entrepreneurs, elite athletes, visual models, NLP (new code), and traditional coaching. Big Fish also designs and facilitates a Nashville Leadership Conference for managers from one of America's largest retailers, and releases its new simulation game "Launch it!"
2008
Dragon boat teambuilding programs become Big Fish's most popular outdoor corporate teambuilding event, while the company helps Quebec-based companies achieve their growth targets.
2009
Big Fish Dragon Boat Crew qualifies for the 2010 Dragon Boat World Championships in Macau, China! Bigger Fish Systems Coaching™ gives financial professionals the lift they need to drive business in tough markets. Reid also launches his Living Beyond the Finish LineTM keynote and workshop series at the Hope Symposium
2010
Big Fish celebrates 15 exciting years In the wake of a major recession, Big Fish helps manufacturers find their competitive edge through a combination of manager-supervisor training along with one-on-one coaching for substantial measured results, sometimes in as little as 24 hours Big Fish's Career Coaching program maintains its 100% success rate over 15 years, never failing to help clients find the position they want