Big Fish Racing
Sponsoring its own dragon boat racing team since 2001, Big Fish Interactive practices what it teaches!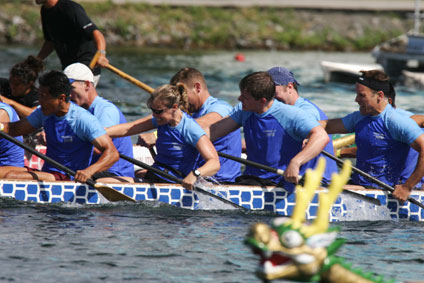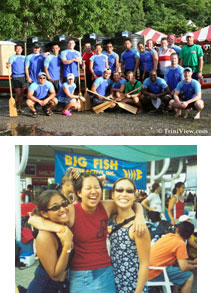 Significant History:
2001: Big Fish takes over sponsorship from TRI and quickly moves into high performance results.
2004: First regatta win.
2004-2007: Consistent top 6 at events of 150+ teams
October 2006: Big Fish DB Crew introduces dragon boating to Trinidad and helps organize the country's first festival!
2006, 2007: Big Fish female teammates contribute to the Canadian Women's Team, winning 2 back to back world championships!
2008 Season: Having several members retire at the end of '07, Big Fish merges with high performers from UCC.
2010 Race Results, out best year ever!
May 29, GWN Outer Harbour 3000m: Result: Big Fish takes all! Wining the season's first regatta!
June 19-20, Silver Medal July 17 Toronto Island
July 28-Aug 1 – Macau Club Crew World Championships, China – Big Fish wins 5th Fastest in the World!
Sept 11-12 – GWN Challenge, Marilyn Bell Park, Toronto; Gold Medal Grand Champions!:
UPDATE for 2013/2014
After taking a year off in 2012, Big Fish is considering options for sponsoring its next world-class team. For more information contact info@bigfishinteractive.com
Big Fish walks the talk like no other training company! Ready to make your business teams world-class high performers? It's time for Big Fish!

Big Fish Racing Team, boat #2 above, that's close racing fishies!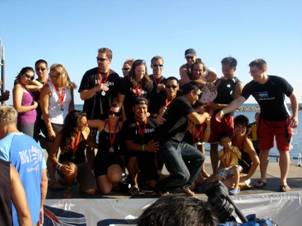 With these kinds of high performance results, it's time to book your teambuilding program with Big Fish! Customized to your specific business outcomes, contact us today and start benefiting from our winning approaches to optimizing your teams and giving them a competitive edge! Indoor simulations, one~one coaching, and teambuilding activities.
Sponsorship Opportunity:
The Big Fish Racing Team is looking for additional sponsorship to support our continued success. Drop us a line to discuss the marketing value this will give your brand as well as the complimentary teambuilding program we'll include with the sponsorship package. info@bigfishinteractive.com
Watch Big Fish Dragon Boat Crew win the qualifier on June 20, 2009

The best way to become a bigger fish is to be trained by one.
Contact us & get it done:
info@bigfishinteractive.com
Toronto 416.763.3017, Vancouver 604-730-8882